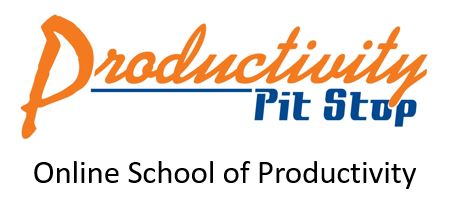 COMPLIMENTARY EDUCATIONAL WEBINAR
8 Ways To Productivity Mastery
Introductory Live Workshop
- With Our Compliments -
This live online event introduces you to 8 Productivity Principles and how to implement each principle in your everyday life to put you in the best position to get and stay even more productive.
This is an introductory overview, yet you will leave with a new understanding that it is not all that difficult to increase your personal productivity - and get tips on how to do it.
We introduce you to 8 Ways To Productivity Mastery. Implementing 8 Ways will help you to rapidly take your productivity to the next level - and keep it there.
Why 'Ways'?
The 'way' of doing something is simply the steps and process to get it done. The what and the how.
If you like what you get, we can connect afterwards to see if and how this can help you, your team or groups in your business to start using the same language of productivity to make life easier.
(The complete modular 8 Ways programme will be available for enrolment from 15 May 2021 - and no, there's nothing to buy at this event 😊. All you bring is an open mind, ready to enjoy and learn.)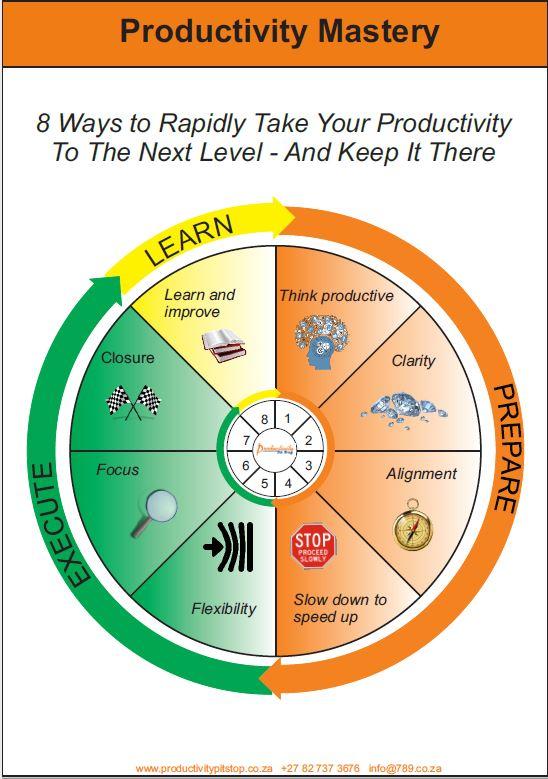 Live Webinar: Productivity Mastery Introduction
Date & Time (
11:05-11:55.)
:
OPTION 1 (
BLUE
button below: Thursdays 22 April 2021.
OPTION 2: (
GREEN
button below): Tuesdays - Every second Tuesday, as from 11 May 2021.
(Q&A for 10 minutes after the event.)
Platform:
Zoom Secure Webinars
Here's What You'll Get At Your Live Event
Before the event you will receive a dedicated handout
to make it easier for you to make notes and have a record of our conversation.
8 Ways To Productivity Mastery
Think "Productive": A calm mind is a productive mind.
Clarity: Make your work visible and actionable.
Alignment: Do only things that support your current priorities.
Slow down to speed up: Work at the appropriate pace.
Adaptability: Adapt to changes in context.
Focus: Manage your boundaries.
Learn and Improve: Make things better.